Bob Jay returns to FunnyStop!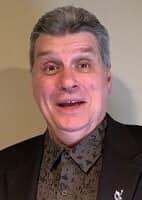 Not sure you remember Bob? Check out this gem from the early days of YouTube... recorded at the Funny Stop back in 2012.
Bob Jay is a stand-up comedian and voice-over artist who has made a name for himself imitating others: cartoon characters, movie stars, famous musicians, and sports figures. Jay is a seasoned veteran of the comedy circuit, touring live as the "The Man With Voices in His Head", as well as spending time on the small screen on Comedy Central.
It was ultimately a dare that produced Jay's eventual career path. Goaded by his friends, he took to the stage on the day of his high school graduation, and the rest was history. Gigs as a DJ and stand-up gradually transitioned into impression-heavy sets where Jay employed his talents for mimicry to great effect... eventually becoming the "Man of 999 Voices".
Spend your weekend laughing with Bob and us at FunnyStop Comedy Club!